***THIS IS A PINNED POST. PLEASE SCROLL DOWN FOR THE MOST RECENT POSTS.***
Things are starting to heat up outside, so I decided to open up ONE afternoon of mini-sessions at the beautiful indoor studio! Booking opened up to newsletter recipients on Friday and several of the spots are already gone. These are first come, first serve & will likely sell out in a day or two!
So what is the mini-session exactly? It's a quick, 20 minute session with up to 6 people. It's great for just about anything except newborn sessions.

These will be held on Sunday, August 24th in the afternoon. Here are all of the details you need to know!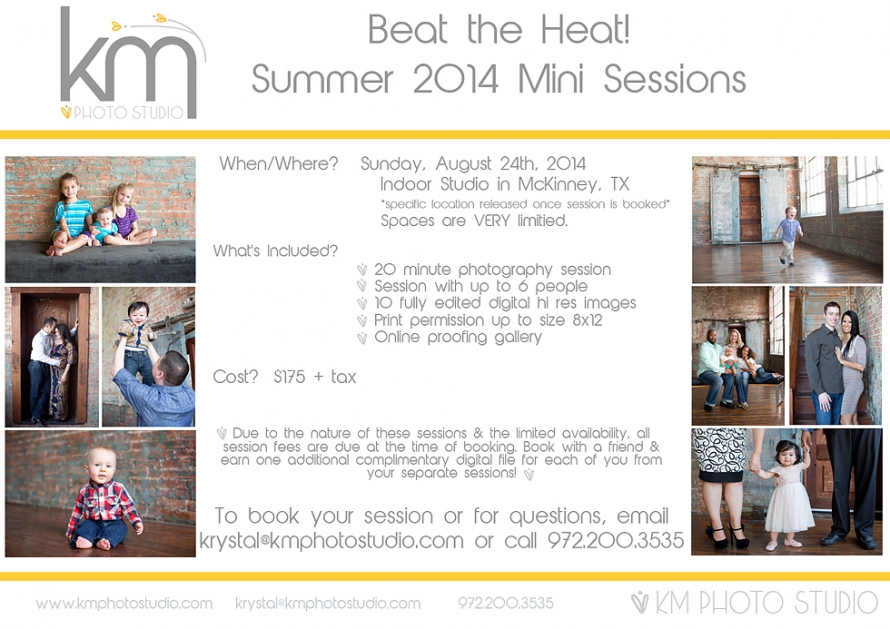 If you are interested in booking, please use the contact tab at the top or give me a call at 972-200-3535! I'd love to see you there. This will be the LAST set of indoor mini-sessions this year. Mini-sessions won't be offered again until the fall and all 2014 fall mini-sessions will be at outdoor locations. If you've been wanting to have a session here, don't miss out!
~Krystal